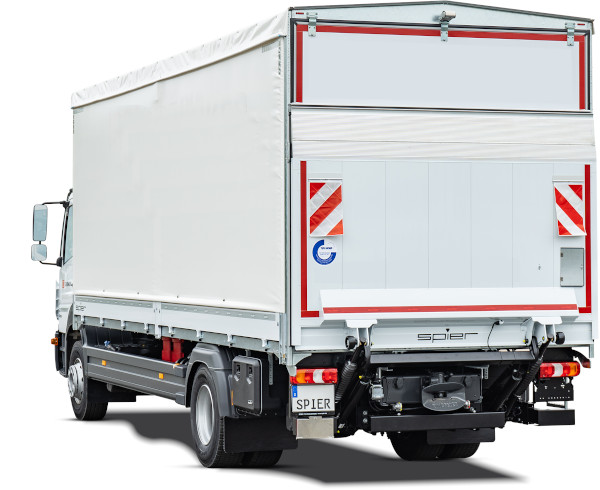 |

 Platform bodies:
Clever ideas – successfully combined.
The requirements for platform bodies are diverse, their possibilities of use are unlimited. In order to be able to do justice to all of these customer requirements, the SPIER platform system works according to the modular principle. From the fusion of your requirements and desired details, you can put together your own versatile and versatile SPIER product.
SPIER supplies flatbed bodies with tarpaulins and side walls, tail lifts, rear doors and side sliding tension tarpaulins with Fast Slide System. The SPIER Safety System (pitched roof to reduce weather deposits) is standard. Flat canvas roofs are also available. SPIER platform bodies are also available for SPIER trailers.
Tonnage: 7.5 - 16 t GVW
SPIER platform bodies are available for chassis from the following manufacturers...
|

 Curtainsider bodies : 
Well thought out.
Today's freight transport requires highly efficient and flexible transport concepts. Consequently, we have developed a versatile system for the curtainsider construction. The side curtainsider PVC stretch and sliding tarpaulins can be pushed forwards and backwards. Loading from the side is child's play thanks to the moveable middle pillar. With the integrated load securing in the hot-dip galvanized outer frame, the load is optimally secured. The excellent product quality with galvanized components guarantees a long service life and less need for repairs. 
Tonnages: 7.49 - 18 t GVW
SPIER curtainsider bodies are available for chassis from the following manufacturers...