We will meet your requirements.
|

CERTIFIED MANUFACTURER

For a modern production company, the successful application of quality management is a good part of securing the future.

Aware of this, SPIER was first certified in 1996 after a year of intensive work according to DIN EN ISO 9001 (Download). . Certification according to DIN EN ISO 14001 (Download).  

In addition to DIN EN ISO 9001, SPIER uses an environmental management system in accordance with DIN EN ISO 14001 and is thus demonstrably trying to keep all environmental damage to a minimum.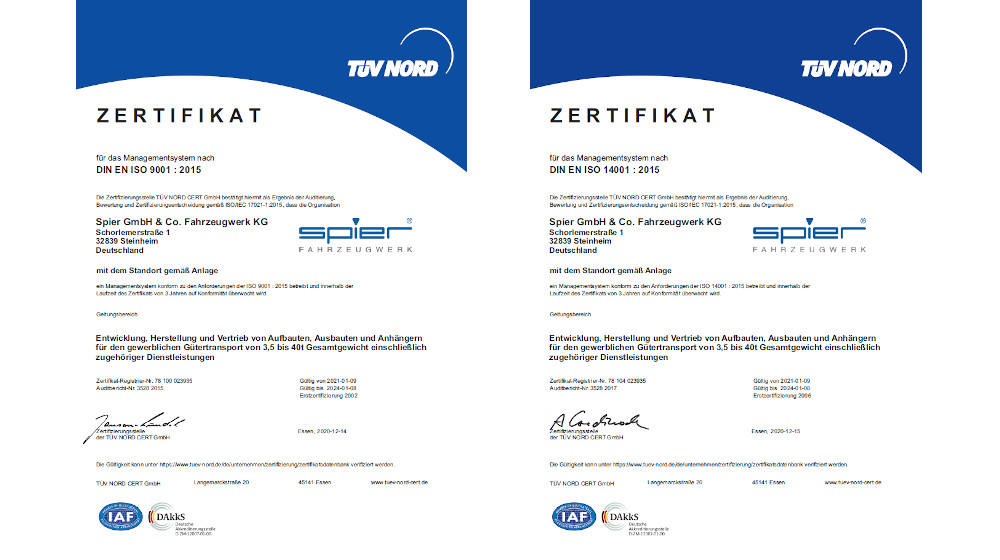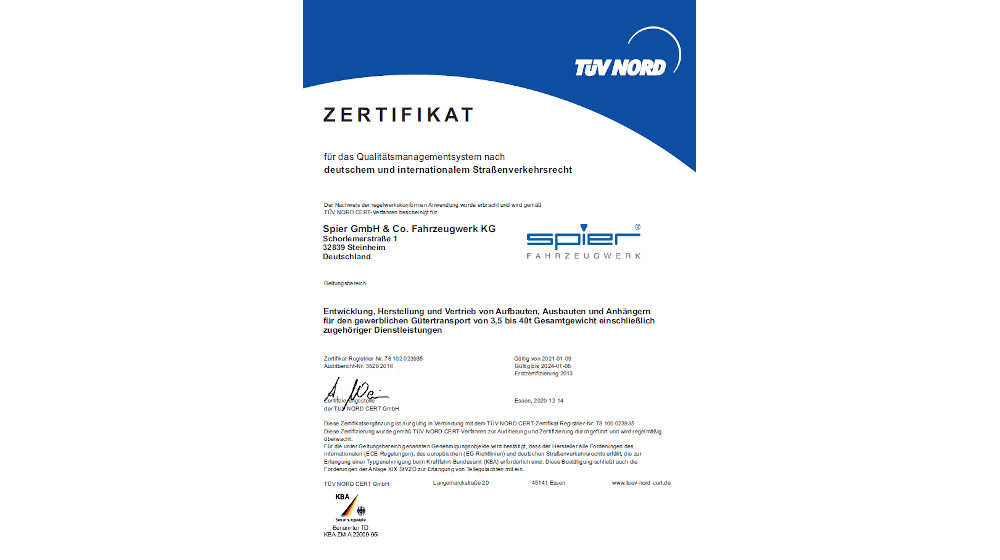 According to German and international road traffic law
|

QUALITY MANAGEMENT SYSTEM

Furthermore, SPIER is certified according to the quality management system according to German and international road traffic law (Download). This confirms that the manufacturer meets all the requirements of international (ECE regulations), European (EC directives) and German road traffic law that are required to obtain a type approval from the Federal Motor Transport Authority (KBA ) are required. 

It is important to us that the high-quality products also meet industry standards. That is why the SPIER box bodies are in accordance with VDI 2700; EN 12195 part 1 and EN 12642 tested and certified.  
Success depends on quality and innovation.
|

OPTIMIZATION FOR OUR CUSTOMERS

A TÜV or Dekra certificate that proves stability, safety and body quality is available on request for almost every SPIER body. More information on certifications is available at: www.tuev-nord.de

Our quality management stands for a requirement-based development and production of commercial vehicles and constantly optimizes our product-related services for the benefit of our customers. Because our experience confirms: The success of every company depends not least on its quality and innovation advantage.

If you would like more information about our corporate policy , please do not hesitate to contact us: We will be happy to provide you with the latest version of our corporate policy on request. p>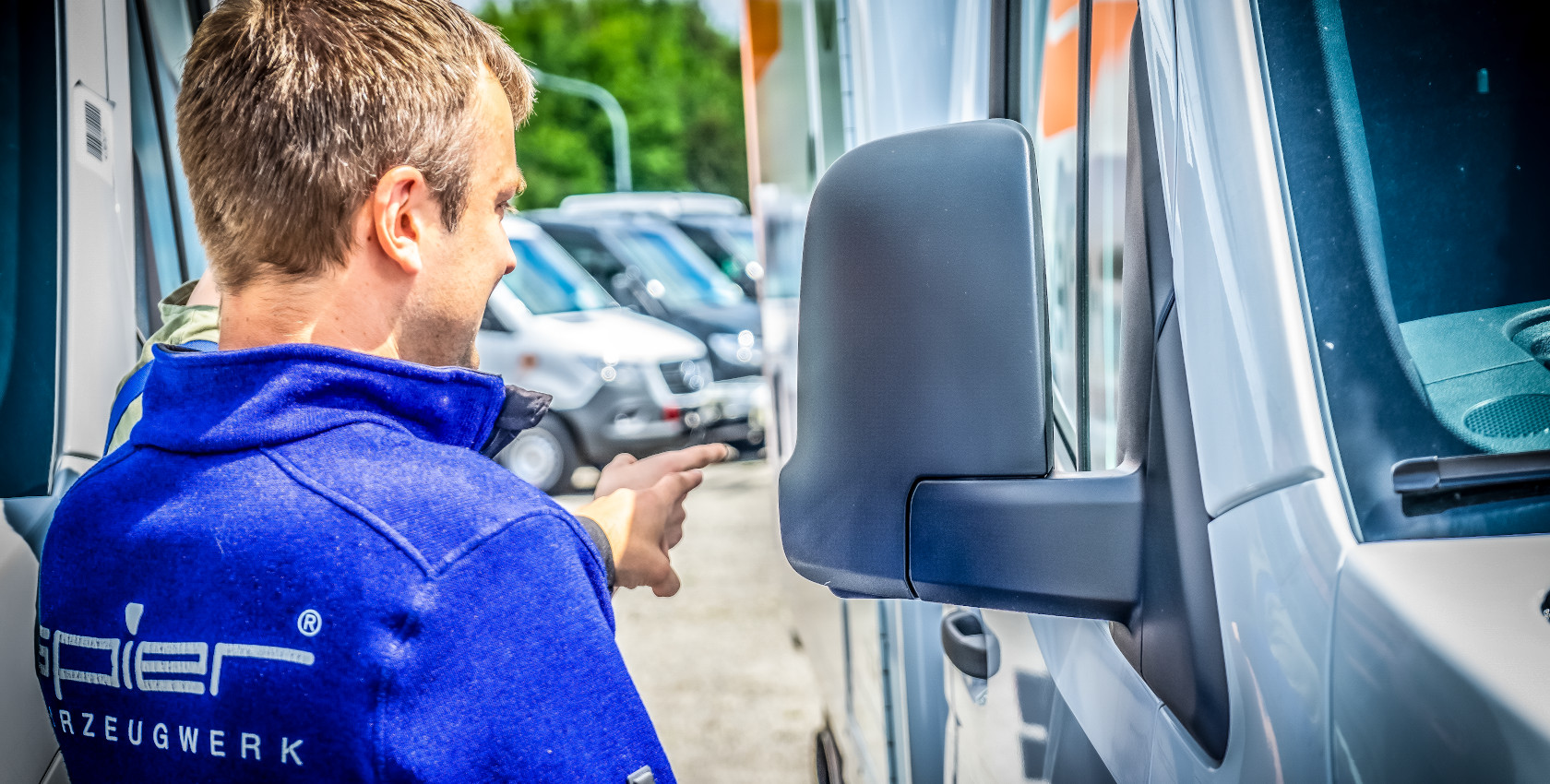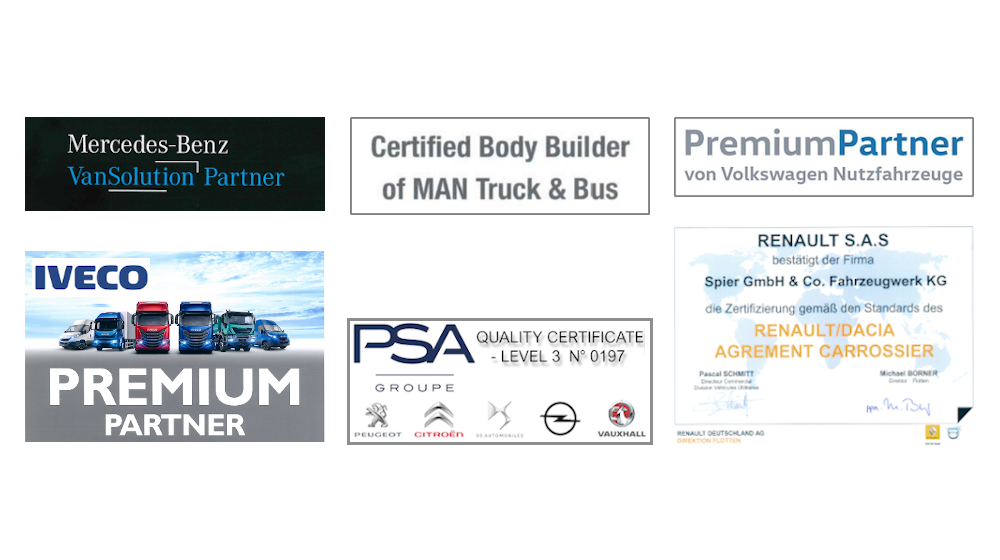 Partnerships, seal of trust & quality
|

PARTNERS OF RENOWNED MANUFACTURERS

SPIER meets the requirements of well-known chassis manufacturers and can therefore produce on a large number of chassis according to body manufacturer guidelines.

The SPIER quality management and the SPIER design and development ensure the development and manufacture of commercial vehicles in line with the requirements of customers and chassis manufacturers. In addition, we are constantly optimizing our product-related services, such as our customer service.
Other Certifications
|

SAFETY FIRST

With static pressure tests, dynamic tests and driving tests as well as a large number of possible temperature and insulation value tests, we give our customers additional safety extras. Safety equipment (e.g. reversing cameras, Turning assistants, numerous entry and exit aids, additional lighting or retro-reflective elements) and load securing adapted to your goods make your SPIER body safer - so that driver and load arrive safely at their destination at all times. Both TÜV and DEKRA have already confirmed this several times. Whether small or large goods, trolley or pallet loading, we have the right barrier solution ready so that you can  load your goods well.

In addition, SPIER Athlet Thermo superstructures are HACCP-compliant and ATP certificates are available on request. In the field of pharmaceutical logistics, the vehicles are built according to GDP specifications, and much more.  

Do you need a specific certification that is not listed? Feel free to contact us!